Shenaz Treasury, best known for her role as Alisha in Ishq Vishk, has been diagnosed with prosopagnosia. The actress-turned-travel blogger took to Instagram to open up about her diagnosis in depth. 
The actress said that she has always struggled to recognise faces and felt ashamed about it, adding that she can recognise voices.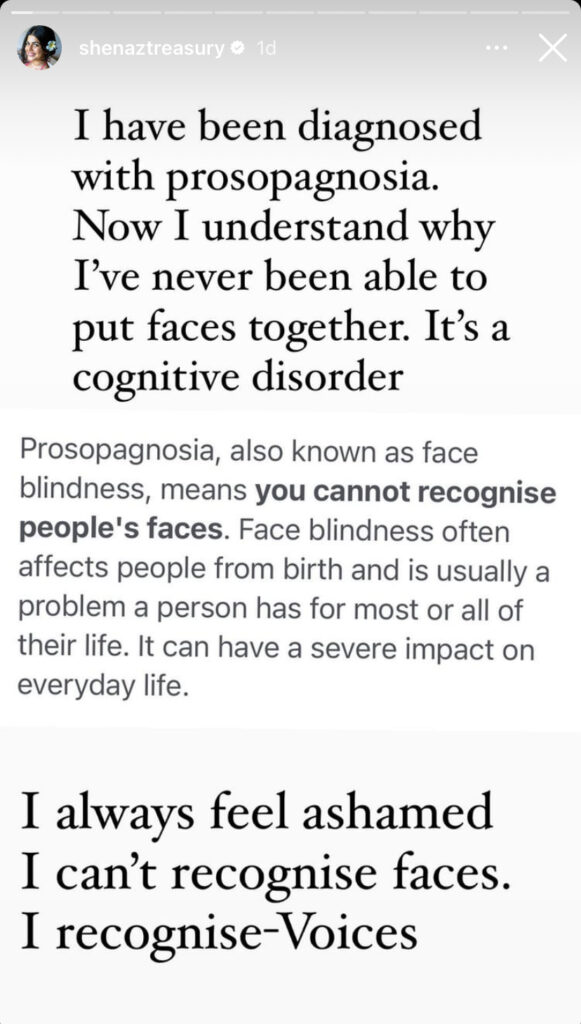 In one of her Instagram Stories, the actress wrote, "I have been diagnosed with prosopagnosia 2. Now, I understand why I've never been able to put faces together. It's a cognitive disorder. I always felt ashamed that I can't recognise faces. I recognise voices."
In her following story, the actress talked in length about the signs and symptoms of prosopagnosia. Listing the symptoms, Shenaz wrote: "1. You have failed to recognise a close friend or family member, especially when you weren't expecting to see them. Yes, that is me. Takes me a minute to register who the person is. Sometimes even a close friend I haven't seen in a while."
Over the years, the actress starred in several films such as Umar, Aagey Se Right, Radio, Luv Ka The End and Delhi Belly among others. The actress is now a travel blogger and has a massive community on Instagram that continues to be hooked to her travel posts and how!